About the Foundation
Jillian's story.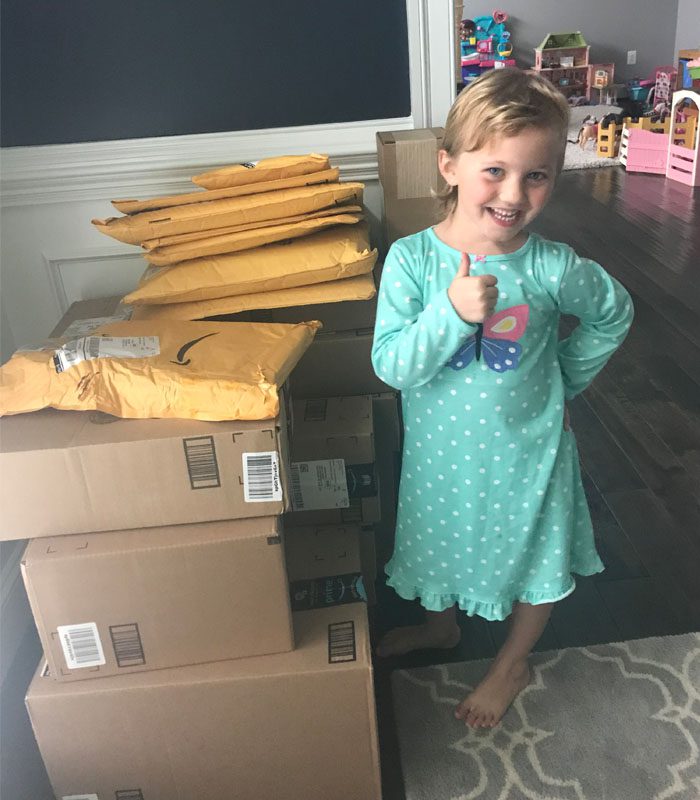 Delivering miles of smiles to sick children.
Meet Jillian
Jillian was a carefree, spunky and spicy, gymnastic loving 5 year old with determination and strength like no other! In April of 2016, Jillian had what looked to be bell palsy from a possible virus. Her face was droopy. Her parents were told that it would resolve in a few weeks. However, instead of getting better she got worse and started having issues with balance.
Her mom knew it was something more serious and after a quick visit to their pediatrician, they were sent to CHOP for further scans and tests. The scan revealed numerous tumors in her brain and spine.
Two weeks after her 4th birthday, Jillian's family heard the words that forever change one's life, "Jillian has brain cancer and it's very advanced and possibly incurable."
She was diagnosed with disseminated high-risk medulloblastoma, an aggressive brain and spine cancer and began treatment right away.
She was inpatient at CHOP for over six months. She endured a 9 hour brain surgery, 6 rounds of high doses of chemotherapy, 3 stem cell transplants, and spent 272 days inpatient at CHOP. The whole time never asking why or if she was sick but continued to smile and dance in the hallways as if every child goes through something like this.
rounds of high doses of chemotherapy
In May 2017, her MRI revealed additional spread of the disease and unfortunately due to the locations of the tumors, the family was told that nothing else could be done at this time. Their decision with the help of her oncology team was to put Jillian on palliative care and let her live out the rest of her days in true Jillian fashion-living, loving, smiling, laughing and being her Sassy Massey little 5 yr. old self.
Jillian had no idea she is sick and that was a blessing. She loved CHOP and often referred to it as Hotel CHOP due to all the fun, toys, playroom resources and people that brought joy at such a scary time.
She passed away on December 4th, 2017, only 20 months after her initial diagnosis. Her parents believe that Jillian chose this time of the year to go home to her angels since there was a lot of joy in the holidays to serve as a distraction.
She also had a bigger mission to fulfill. She helped to start the Sassy Massey toy drive in October of 2016 with the idea of making sure her friends at CHOP would have toys for the holidays.
In December 2016, Jillian personally delivered more than 3,000 toys that had been donated from friends, families and strangers through an Amazon wish list. This past holiday season her vision was to make it BIGGER! Much bigger, with her initial wish and video asking people to help her donate 10,000 toys for the 2017 holiday season.
With her passing being in December, the news spread far and wide and over 24,000 toys came flooding into the warehouse in Jillian's honor. It was clear to her parents, that Jillian's wish would need to be carried on and that's how the Sassy Massey Smiles Foundation was created.
Our Mission
Our mission is to spread Jillian's kindness by delivering miles of smiles to sick children by providing toys and child life programs with playroom resources to create fun, happy, and memorable play experiences during a hospital stay or clinic visit.
Click Here to Donate Toys